Annual Fund (budgeted expenses)
The 
Annual Fund 
supports every aspect of Lakeview Christian Academy's mission of training young champions for Christ. Unrestricted gifts to the Annual Fund are a vital part of the school's annual operating budget. 
Please consider how you might help us to raise $155,000 this year.
frequently asked questions
How much does Lakeview Christian Academy expect me to give?
Though it is not required, Lakeview Christian Academy encourages families, alumni, faculty, staff, board members, and others in our community to give back to the school by contributing to the Annual Fund. Gifts of any size make an important impact on our student and faculty here at Lakeview Christian Academy.
Why does the school ask for a contribution in addition to my tuition payment?
Annual Fund gifts support the people and programs that make Lakeview Christian Academy special. This means gifted teachers, small classes, and exceptional academic resources. Tuition alone does not cover the full cost of a Christ centered education, and the school relies on contributions from a variety of donors to support the annual operating budget. Every gift, no matter the size, is important.
Why doesn't the school raise tuition rates to cover all operating expenses?
We believe the Lakeview Christian Academy community is richer if it is more diverse. We value our families from all economic backgrounds and strive to be accessible to a wide range of families of faith. Although tuition is not tax-deductible, a contribution to the Annual Fund may be deducted from your taxes.
The thermometer is current through May 31, 2017.  Please stayed tuned for monthly updates.
Designated Gifts (non-budgeted expenses)
We are privileged to receive different kinds of monetary and in-kind gifts throughout the year that are designated for specific purposes, but do not off-set the current fiscal year budget.  These gifts provide for many different needs and enrich our ability to provide the best educational environment for our students.  We are very thankful for these contributions.
Lakeview Christian Academy is grateful to our friends who inquire as to how they might help provide items needed by the school. If you make a gift in kind to the school, please stop in the office for a donor form that will then generate a tax receipt for the amount you have indicated as the value. A copy of your receipt is helpful. Thank you!
Needs List:
Bookstore gift certificates
Canon EOS Rebel T5 Digital SLR Camera with 18-55 IS 75-300 mm lens-$700
Blinds for Elementary Resource Room-$425
Classroom desks for Kindergarten room-$2,000 for 20 desks
Broomball shoes for physical education-$75 each(need 6 pair)
Wall mounted trophy case-$2,500
Replacement of old computer monitors - $140/ea. (need 10)
Replacement of network switches - $5,000
New student desktop computers - $450/ea. (need 25)
New laptop computers - $600/ea. (need 5)
Copier lease - $5000/year
Archery program expenses - $1000
Lego League program expenses - $2000
FIRST Robotics program expenses - $8000
Scorer's Bench-$3,000
Gymnasium - $2,000,000 (includes site development and structure)
Ultimate Need - A New School
Please note that actual costs may change
.  Any questions about the items on the Needs List or how to make a gift, please contact Angela Benson at
angela.benson.lca@gmail.com
218-723-8844 ext 11
Heritage Banquet-This event honors a person or persons that have given to LCA in their time, talent and treasure over many years to the organization.  The banquet is also a thank you to our donors and contributors.

Spring Spectacular- This event  is a night of fun and fellowship for our families and supporters. The night includes a wide variety of silent auction items for bid, a dessert auction and spotlight focus on a program at Lakeview.  We welcome corporate sponsors and bid item contributions from individuals, families and businesses.
To provide access to as many families of faith as possible we keep tuition below the actual cost of operations and provide opportunities for families and the community to give through fundraising and contributions.
THRIVENT
Members of Thrivent Financial can designate giving to Lakeview Christian Academy through the Choice Dollars program.  Thrivent Choice, the member-advised charitable grant program, gives you the opportunity to recommend where Thrivent distributes some of the organizations charitable funds. Visit Thrivent.com/choicedollars to get started.
SCRIP
Scrip is a term that we use to refer to gift certificates and prepaid gift cards that are used just like cash.  You can use Scrip to purchase everyday expenses like food, clothing, gifts and gas by using your existing household shopping budget!  The gift certificates/cards we provide are the same gift certificates/cards you would buy if you went to the participating retailer and purchased them yourself.
There are no fees.  Our participating families simply pay the school face value for the gift certificates and prepaid gift cards they order.  Unlike other fundraising programs, Scrip families do not have to "sell" anything to receive the benefit of participation.
Lakeview purchases some of the gift certificates/cards from the Great Lakes Scrip Center, while others are purchased by the school directly from local vendors.
Lakeview purchases the gift cards that you order at a discount percentage determined by each participating vendor.  For example, Cub Foods sells the gift cards to the school at a 4% discount, Dominos Pizza gift cards are sold at a 5% discount,  Red Lobster/Olive Garden gift cards are sold at a 9% discount, etc.
Half of the profit goes to the school for the general fund and half is credited to the family you designate to reduce tuition costs.  The family could be your own or it could be someone else' family.  For example, if we are thinking through this with Cub Foods that provides a 4% discount you would purchase a $50 gift card for $50.  However, Cub Foods would actually sell it to the school for $48.  $1 of the profit would got to the school while the other $1 would be applied as a credit on the family account.  This seems like a small amount but it adds up when you use Scrip for all of your normal purchases.
Orders are accepted from anyone, including your friends, family and neighbors.  Taking orders from others can increase your tuition savings when the credit is applied to your family account.
HERE IS HOW THIS WORKS:
*Complete an order form (available in the school office) and remit with a check payable to Lakeview for the total amount of the order.
*You'll receive a blue plastic Scrip wallet free when you place your first order.  Remit future order forms in the wallet.
*Turn the order in to the school office no later than 10 am on Mondays.
*Pick up your order on Thursday after school or on Friday in the school office.
*Use certificates and gift cards just like you use cash!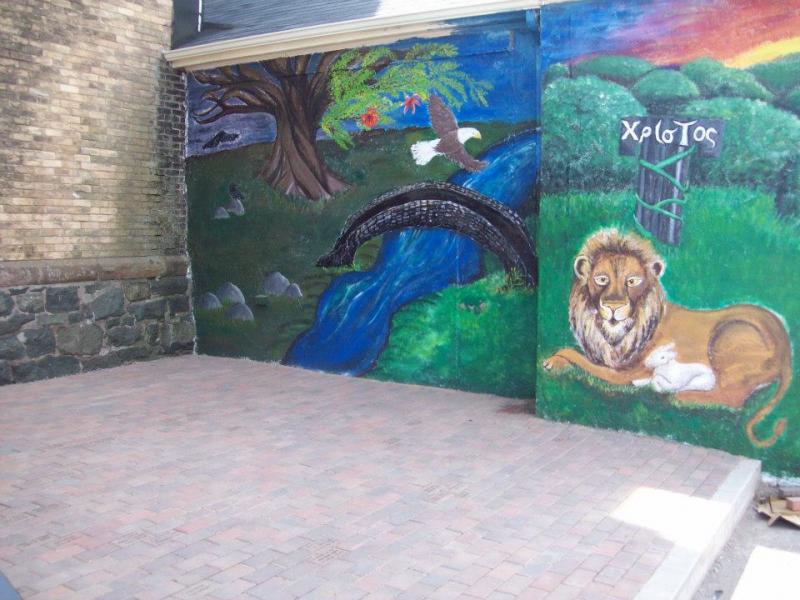 The summer of 2012 we completed Phase 1 of the "Cornerstones of Truth" courtyard as a common gathering spot for Lakeview families to leave a legacy. It is located to the right of the main entrance and is a permanent way to remember, honor, or celebrate special people in your family's or your student's life.
You can honor the graduate, memorialize a grandparent, thank a teacher, celebrate a milestone such as a birth or marriage, recognize Mother or Father's Day, thank a veteran, or share an inspirational scripture verse that is meaningful to you. This is an opportunity to have fun, to be kind and to be creative!
Orders for individual pavers (bricks) are taken throughout the year to be installed each summer.  The cost of the first brick is $75 and $60 for each additional brick. There is no limit to the number available. Each paver can be engraved with 2-3 lines of 15 characters each.
Download a form here COTFlyer2016
. If you have any questions, please contact Angela Benson at
angela.benson.lca@gmail.com
or 723-8844 ext. 11.
This is a great way for our friends and families to symbolize the foundations for life that are being laid at Lakeview Christian Academy. The courtyard is portable to a new location should God one day bless the school with a new facility.
Head of School, Todd Benson, "I love my job, I really do…but the most difficult part that has never gotten easier is when a family comes to me and they have to pull their child, simply because they have encountered an unforeseen hardship or financial set-back.  It pulls at the heart strings to see a parent have to decide which of two children can be at LCA or to witness growth in a student, only to have them uprooted."
Some families at Lakeview Christian Academy really struggle to pay their tuition…often the result of unforeseen hardship. To respond to this type of situation and to make financial aid available, the Development Department has established the Tuition Plus Fund.  Gifts to the Tuition Plus Fund will be pooled into one account to offset financial assistance and provide relief in a family crisis. Examples might include medical financial emergencies, divorce, unemployment, or a business setback that prevents or interrupts a child's LCA education.
We cannot truly predict how many students will be affected by a hardship in a given year, but at the very least, LCA would like to be positioned to provide help to 10 students annually, many of whom may be from one family. This translates to $60,000.
Those generous friends electing to become Charter Members of the Tuition Plus Fund include:
Anonymous (6)
Brad and Cathy Bennett
Todd and Angela Benson
Judy Brackett
Barb Brandt
John and Jill Broman
Rachel Cummins Marcia and Gary Doty
Lynn Dudek
Steve and Kris Henry
Zach and Chelsey Holm
Pastors Jim and Barb Joseph
Journey Home Fellowship
Jim and Shirley Midthun Diane Nelson
Bob and Karen Newstrom
Jim and Rae Ann Pappas
Bob and Camilla Payne
Duncan and Stephanie Puffer
Becky Byers Strand
Roger Werner
John and Cheryl Wisneski
How You Can Help
Gifts may be made as desired at any time through gifts of cash, securities, or bequests.
Pledges to the Tuition Plus Fund are encouraged and may be paid on a monthly, quarterly or annual basis. PayPal and electronic transfers are an option, as are checks or cash.
Please contact Lakeview Christian Academy to make a contribution 218-723-8844.
The annual Heritage Award was established in 2011 by the LCA Board of Directors to honor an individual or organization that has significantly impacted Lakeview Christian Academy. The recipient(s) of this award will have exemplified their dedication and commitment through their giving of time, talent and treasure to further the mission and purpose of Lakeview Christian Academy, while serving as an example to others to do the same.

Heritage Award Process

The following Scripture will guide the selection process:
"Let us hold fast the confession of our hope without wavering, for He who promised is faithful; and let us consider how to stimulate one another to love and good deeds, not forsaking our own assembling together, as is the habit of some, but encouraging one another; and all the more as you see the day drawing near."  Hebrews 10:23-25.

These guidelines will govern the process:
1.  Include the name of the nominee with phone number and address; also include name of the person submitting the nomination with phone number, address and email address.
2.  Staff, board members, alumni, parents, students, and donors may submit nominations for the Heritage Award.
3.  Applications should not exceed two (2) typewritten pages (your narrative). Resumes, annual reports or personal vitae are not accepted as part of the application.
4.  The application (narrative) will address the following:

Evidence of exceptional generosity, vision and leadership.
Description of participation in advancing the mission of Lakeview Christian Academy.
Examples of encouragement to others in blessing the work of the school.

5.  All nominations shall be received by May 31 of each year.

The Heritage Award will be announced in the fall of each year by the Lakeview Christian Academy Board of Directors. The venue for the award presentation will be a Lakeview Christian Academy event.  Recipient(s) of the award will receive a plaque and their name will be placed on a master plaque that is displayed in the school. Award recipients OR a representative of the award recipient MUST be present at the Awards Ceremony to accept the award.

Heritage Award Recipients
2011-John and Irene Raimo
2012- William and Mary King
2013-Lorna West
2014-James Denney
2015-Bob Newstrom

Volunteer Opportunities

Lakeview Christian Academy welcomes volunteers to be involved with our school community.  Classrooms, maintenance, fundraising, events all provide ways for you to share your talent and skills with LCA.  Please contact Kris Brown, Assistant Adminstrator 218-723-8844 

kris.brown.lca@gmail.com

or Angela Benson, Director of Marketing and Special Events 

angela.benson.lca@gmail.com

to help find the best fit for you.

EPIC E

nthusiastic

P

arents

I

nspiring

C

ommunity-LCA's parent organization

The purpose of EPIC is to further LCA's mission by supporting staff with classroom involvement, hosting activities and events, volunteering to provide resources in time, talent, and treasure.  Please contact

epic.lca@gmail.com

for information.